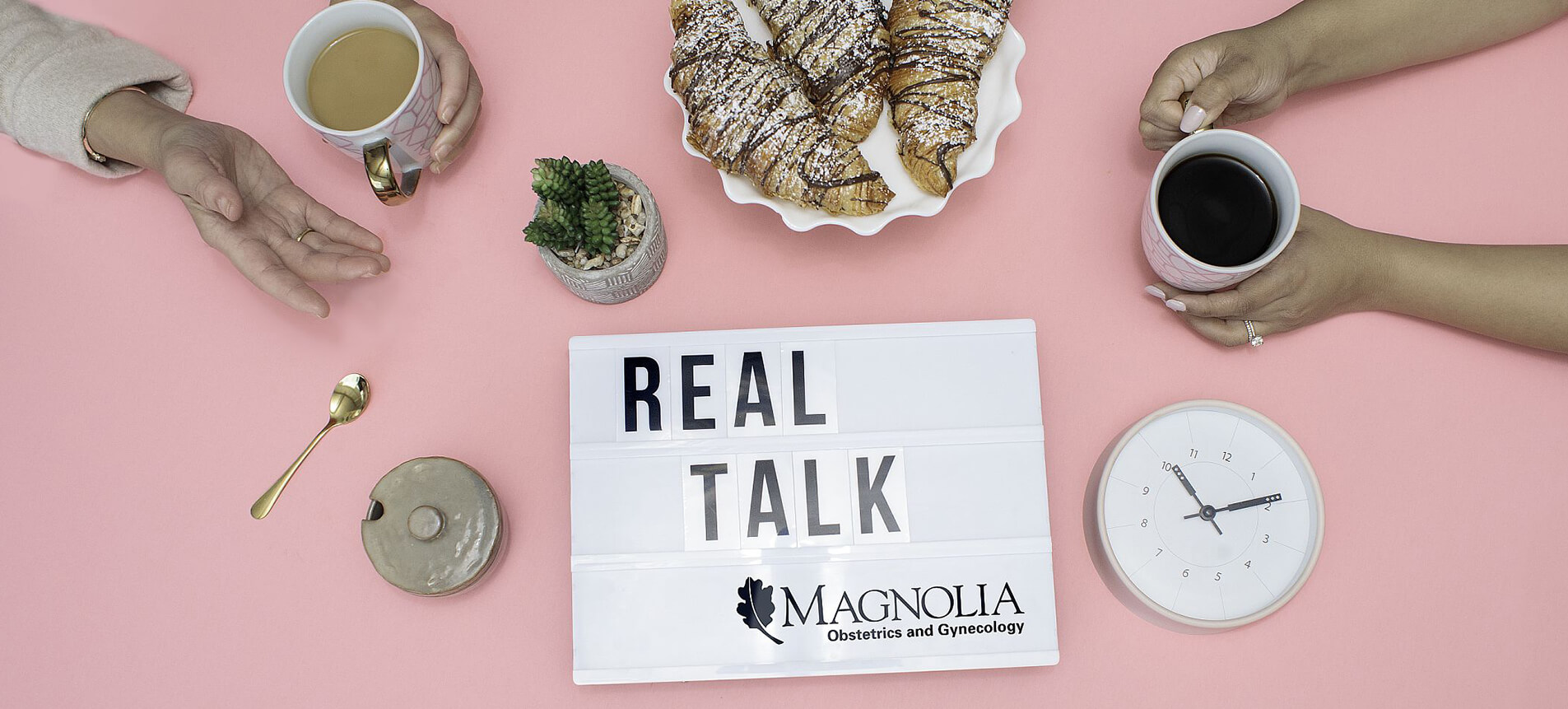 Real talk is our specialty.
Start the conversation today with our care team.
Schedule a visit
We're here to talk about it all.
Health & Wellness

Period Problems

Sexual Health

STIs

Pregnancy

Depression

Menopause

Vaccinations
3D Mammograms
Breast Care
Colposcopies/LEEP
Contraceptive Management
Dexa Scans
Family Planning and Pregnancy Care
Incontinence
Menopause/peri-menopause
Midwifery
Minimally invasive surgery
Osteoporosis
Pap Smears
Phlebotomy (blood draws)
Pregnancy tests
Sonograms
Sonohysterograms
STD tests
Ultrasounds
Well-woman visits
As women, we know that having a baby is one of the most special, beautiful moments in a woman's life. From the moment you decide to grow your family, our team at Magnolia Obstetrics & Gynecology is ready to provide exceptional maternity care before, during and after your pregnancy.
Family Planning

Who Will Deliver My Baby?

Exceptional Outcomes

Prenatal Classes

Destination Delivery
Family Planning

Schedule a visit with one of our Magnolia doctors or midwives at least three months before trying to get pregnant. During this preconception counseling appointment, we'll discuss your family history, risk factors, medical conditions and lifestyle. Your doctor or midwife may also perform a physical exam and order lab tests.

Who Will Deliver My Baby?

During your pregnancy, we recommend that you meet each provider at least once. Being familiar with the team of doctors and midwives helps ensure your baby will be delivered by someone you have met before. However, you may choose to see your primary obstetrician for every visit – the choice is yours. But one thing holds true for all of our doctors – they are all highly-skilled, compassionate caregivers who love to deliver babies.

If you are planning for an induction, C-section or VBAC delivery, we will do our best to accommodate your preference of doctor. We encourage open conversations about your expectations for your delivery. Our combined experience ensures that you and your baby are in great hands.

Exceptional Outcomes

Not only are we experts at delivering babies, but we also excel at delivering exceptional outcomes for moms. We have not performed an elective induction prior to 39 weeks since 2012. This decreases chances for unplanned C-sections, reduces risks of infection and other potentially rare, but life-threatening complications. As a result, our rate of first-time C-sections is only 12%, which is well below the federal government's Healthy People 2020 goal of 23.9%

We are also proud to be a VBAC-friendly practice, engaging in open communication and careful consideration to help patients determine if they are a candidate for this type of delivery.

Prenatal Classes

We offer the following free prenatal classes about topics that concern most mothers. For class schedule or to register, visit www.northoaks.org/classes-events/.

American Heart Association CPR for Family and Friends
Car Seat Safety Checks
Families Under Construction
Infant Care & Tour
Labor & Delivery
Prenatal Breastfeeding
Relaxation Techniques
Something for Siblings

Destination Delivery

North Oaks Medical Center is recognized for our expertise in delivering specialty care for women and children. We are recognized by the Louisiana Perinatal Quality Collaborative for perinatal care, March of Dimes, and Blue Cross and Blue Shield of Louisiana as a Blue Distinction Center+ for maternity care. We also received The Gift designation through the Louisiana Department of Health for fully-supporting moms who choose to breastfeed.
We offer a variety of services to help prepare you for and complement your birthing experience:

Private labor, delivery and recovery suites
Birthing balls
Complimentary lactation services
Physical therapy during and after pregnancy.



Worth noting is the exceptional care provided by our Level 3 Neonatal Intensive Care Unit, which is ranked in the top 25% in the nation by prestigious Vermont Oxford Study. North Oaks NICU is also proud to offer the Donor Human Milk program.
We care for women in all stages of life, from the time they start their periods until long after they've had their last. Every woman's health journey will look different - our job is to listen, comfort and work with you to create a plan of care that meets your needs. In addition to routine gynecologic wellness exams, we offer many evaluations and treatments in our office.
Preventive Health Care

Menopause & Osteoporosis

Surgical Procedures
Preventive Health Care

Preventive health care, or well-woman visits, is an essential part of your self-care routine that consists of routine screenings and services that check for disease, infection and cancer. Well-woman visits may include a pelvic exam, breast exam, pap smears and screenings for STDs.

Menopause & Osteoporosis

Menopause is the transition between your reproductive years and your non-reproductive years. Once you've no longer had your period for 12 months in a row, you're considered to be in menopause. Every woman experiences menopause differently - from their personal views of the change to their bodies to the severity of the symptoms they experience.

During this time, women are also at risk for osteoporosis, a disease in which the density and the quality of the bone are reduced. Left untreated, osteoporosis can lead to serious bone breaks, especially in the hip and spine.

During this time of transition, we'll personalize a treatment plan to help you to navigate the symptoms of menopause and prevent osteoporosis-related health issues.

Surgical Procedures

The doctors at Magnolia OB/GYN are specially-trained and experienced in minimally invasive surgical techniques that treat conditions like cancer, endometriosis, fibroids, uterine prolapse, excessive bleeding and more. Using laparoscopy and da Vinci® robotic surgery ensures minimal scarring, lessened pain, shorter hospitalization, and faster recovery times, with less risk of complications. All of our surgical procedures are performed at North Oaks Medical Center or North Oaks Surgery Center in Hammond.
At Magnolia Obstetrics & Gynecology, expectant moms have more birth options. We offer midwifery care to assist women throughout their pregnancy and specialize in delivering exceptional birth stories.
What is a Midwife?

Midwifery Services

Benefits of Midwifery Care
What is a Midwife?

Certified Nurse-Midwives (CNMs) are nationally certified, state-licensed advanced practice registered nurses who specialize in providing practical, hands-on obstetric assistance and guidance. They are credentialed to work together with physicians in Louisiana to provide gynecological care to women of all ages, as well as obstetrical care for pregnancy, childbirth and the postpartum period.

Click here to learn more.

Midwifery Services

Like an OB/GYN or nurse practitioner, a midwife cares for women throughout their entire pregnancy and beyond. Their goal is to help women have healthy pregnancies and achieve their ideal birth experiences through:

Education and counseling
Family planning and preconception care
Creating personalized birth plans
Emotional and practical support during labor and delivery
Guidance on physical and psychological health
Advice about diet, exercise, medications and staying healthy
Consulting with or referring to a physician if a problem should arise.

Benefits of Midwifery Care

According to the American College of Nurse-Midwives, there are many benefits to having a midwife assist in your prenatal care, including:

Decreased risk of needing a cesarean
Lower chance of having labor induced
Lower use of regional anesthesia
Lower infant mortality rates
Decreased risk of preterm (early) birth
Decreased perineal tears.
"Navigating a potentially serious health issue can be scary and overwhelming. Dr. Guillory was wonderful - she listened, acknowledged my concerns and provided much-needed reassurance throughout the diagnostic process."

Carlee G.

"I couldn't have asked for better doctors to deliver my two children. Dr. Sandifer provided calming reassurance during an unplanned C-section for my first child and Dr. Porter created an amazing zen-like atmosphere for the VBAC delivery of my daughter. I am so grateful for the care I received from Magnolia."

Trang W.

"I was nervous about delivering my first baby without my mom by my side to coach me. My doctors and nurses went above and beyond to ease my fears and provide a beautiful birth experience - Nurse Holly even Facetimed my mom for the entire delivery so she could be there! Their kindness and compassion is something that I will never forget."

Blaire W.
Meet Our Women's Health Experts
Diane Rabalais, MSN, WHNP

Julie Santangelo Ponder, WHNP

Jennifer Bonaventure, CNM
North Oaks Clinic Building 15813 Paul Vega, MD, Dr. , Suite 200
Hammond, LA 70403
Get Directions